Closed-loop partnership for Kelheim Fibres and Renewcell


Swedish textile recycling company Renewcell and German viscose fibre manufacturer Kelheim Fibres have signed a Letter of Intent for a long-term commercial collaboration to add the crucial missing link for a circular economy for textiles in Europe. Together, the two technology leaders will collaborate on developing commercial-scale production of superior quality viscose fibres from up to 10 000 tonnes of Renewcell's 100% textile recycled material annually. The collaboration paves the way toward a fully European closed loop in which textile waste is collected, recycled, and regenerated into new fibres for people that want to reduce their fashion footprint significantly.
Click here for more information
Digital event: ADD International Textile Conference - Registration still possible

The ADD ITC represents one of the most important meeting grounds for exchange between executive management, experts & young professionals from industry and science. Registrations are still open for the Aachen-Dresden-Denkendorf International Textile Conference until November 8, noon.

Participants can expect over 60 presentations in three parallel sessions, which can be switched between at any time. In addition, more than 100 scientific posters will be presented and there will be a virtual exhibition where the attendees can get in touch with companies. There will be networking opportunities in the discussion rooms and virtual foyer.
Click here to browse the programme
The Refashion 2021 Innovation Challenge is open

How to produce environmentally performing materials from post-consumer non-reusable textiles and footwear that fit the market's functional and economical needs?

For the 2021 edition of its call for R&D projects: the Innovation Challenge, the French eco-organisation Refashion partners with SoScience for its expertise in responsible open-innovation with its 'The Future Of' programme. This new format devised to boost collaboration aims at fostering new solutions and addressing the recycling industrialization stakes of the Textile Industry.

Deadline for applications: 23 November 2021. For any questions, please contact challengeinnovation@refashion.fr
Gold status for Kelheim Fibres in EcoVadis CSR rating

The German speciality viscose fibre manufacturer Kelheim Fibres was awarded gold in the CSR rating by EcoVadis, scoring among the top 3% of all companies evaluated. The rating was well above average in all four individual areas (environment, labour, and human rights, ethics, sustainable procurement), but Kelheim Fibres achieved absolute top scores in the environment area in particular.

In addition to the excellent EcoVadis rating, Kelheim Fibres is also the first viscose fibre producer worldwide with a certified EMAS environmental management system and ranked highly in the Canadian NGO Canopy's "Hot Button Report" for sustainable wood and pulp sourcing.
Click here for more information
F-free durable water repellent finishing based on cross-linked encapsulated paraffin

An innovative eco-friendly fluorine-free water repellent finishing has been developed and upscaled in the frame of the project ECO-DWOR (Eurostars E!11894) in cooperation with two SME companies COLOR-CENTER, S.A (Spain) and INOTEX spol. s r.o. (Czech Republic).

The DWR textile auxiliary product UNIPERL ARK/ICL-1 based on natural wax/paraffin encapsulated in an acrylic shell with reactive cross-linkable groups (no additional extender needed) is suitable for durable DWR finishing of natural and synthetic textiles by impregnation or exhaustion processing. Breathability (MWTR) of textiles isn't influenced, water repellent effect is on level of fluorocarbons C6. The finishing technologies were transferred into the industrial scale and commercialized.
Send an email for more information
8 key future jobs in Fashion-Tech

Academics and company representatives from the fashion industryhave joined forces to determine which roles will become the most in-demand in the fashion-technology sector.

The results of the report — produced by Professor Jose Teunissen and Dr Michele Danjoux from London College of Fashion, UAL for the European partnership FTAlliance, — follow extensive research and knowledge exchange activities into the current landscape of the fashion industry, looking at how the integration of emerging technologies will bring new business models with improved sustainability and circularity. Download the full report for more information on each role.
Discover the 8 key future jobs in fashion-tech
Maturolife project is successfully completed

IFTH was a partner of the MATUROLIFE project led by Coventry University and funded by the European Commission. The project involves 20 partners from 9 countries is a unique multi-disciplinary project that brought electrochemists, materials scientists, and experts in electronic manufacturing processes together with creative and artistic designers to produce 'smart textiles and fabrics' with the aim of revolutionising assistive technology (AT) for older people.

The project is ended by presenting the successful results of a sustainable approach of selective metallisation for developing sensors in July 2021.
FTAlliance. International and interdisciplinary Fashion-Tech learning experiences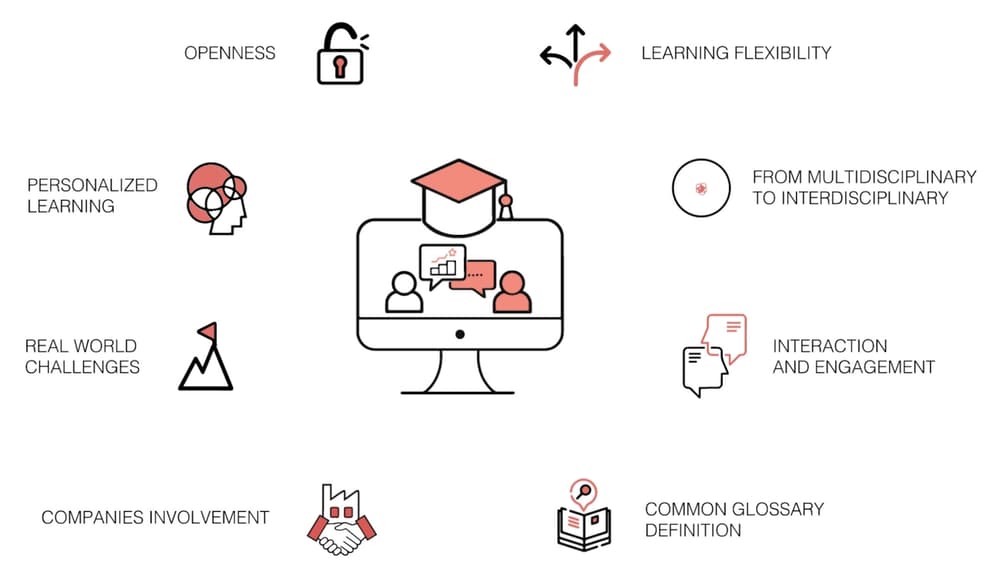 FTalliance, a Knowledge Alliance Project co-founded by the Erasmus+ Programme of the European Union, has launched three learning experiences.

The first one, Fashion-Tech Interline examined how digitalization and virtualization of the design process can be exploited towards faster, smarter, more efficient, and sustainable garments. The second one, the Secret Life of Clothing investigates how data revealed by worn objects can be used to create environmentally, socially, and economically sustainable interactions. The third learning experience, Scalability of Multidisciplinary F-Tech Solutions aims to identify future sustainable development challenges and explore how these can be solved by developing inter-disciplinary and scalable fashion-tech solutions.