In Barcelona, Spain, on 18-20 October, the ECOSYSTEX Conference will bridge the gap between EU-backed textile research and the thriving sustainable textile industry. We are bringing together a diverse community of researchers, industry leaders, and policymakers who are committed to driving innovation and sustainability in the textile sector.


Prices for the general public is €230.00 for the three days. Textile ETP Members benefit from a discount: €190.00 for the three days. (Prices don't include VAT). Registrations are open until 25 September (end of day).

Don't miss the opportunity to gain insights into the latest EU-funded textile research projects and their potential applications, and expand your network by connecting with like-minded professionals!
Plenary sessions, breakout discussions, presentation of ECOSYSTEX member projects, visit of EURECAT... The programme is available below.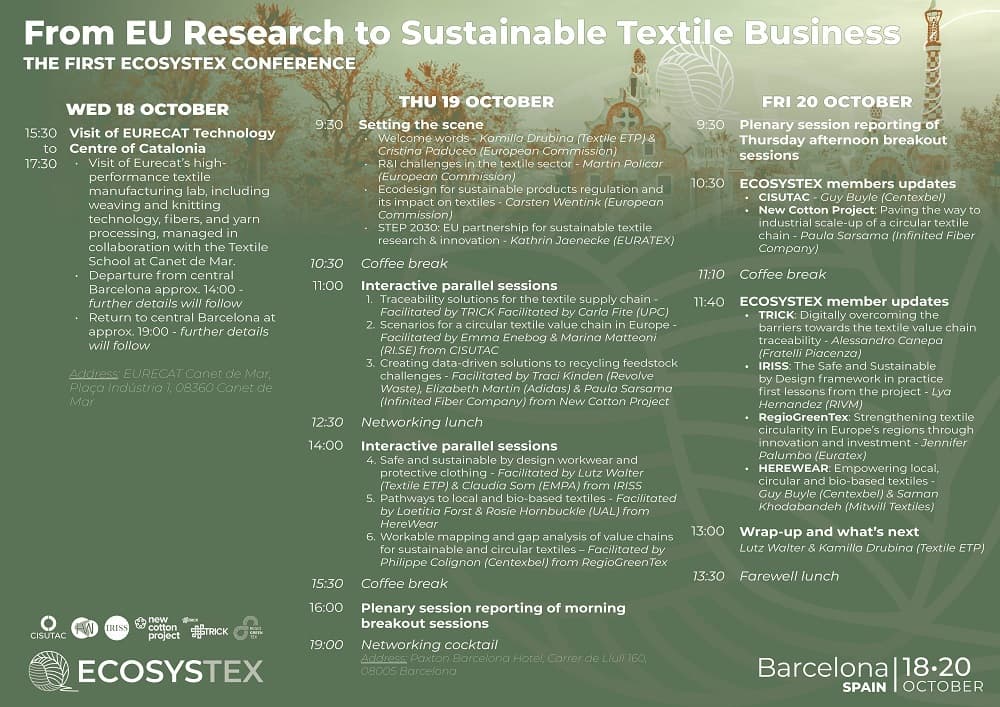 The conference will take place in Valkiria Hub Space (Calle de Pujades 126 in Barcelona, Spain). Beside, a networking cocktail is organised in the Paxton Barcelona Horel (Carrer de Llull 160) on Thursday 19 October.
We are looking forward to meeting you on 18-20 October in Barcelona!

For more information, please contact us at info@textile-platform.eu.