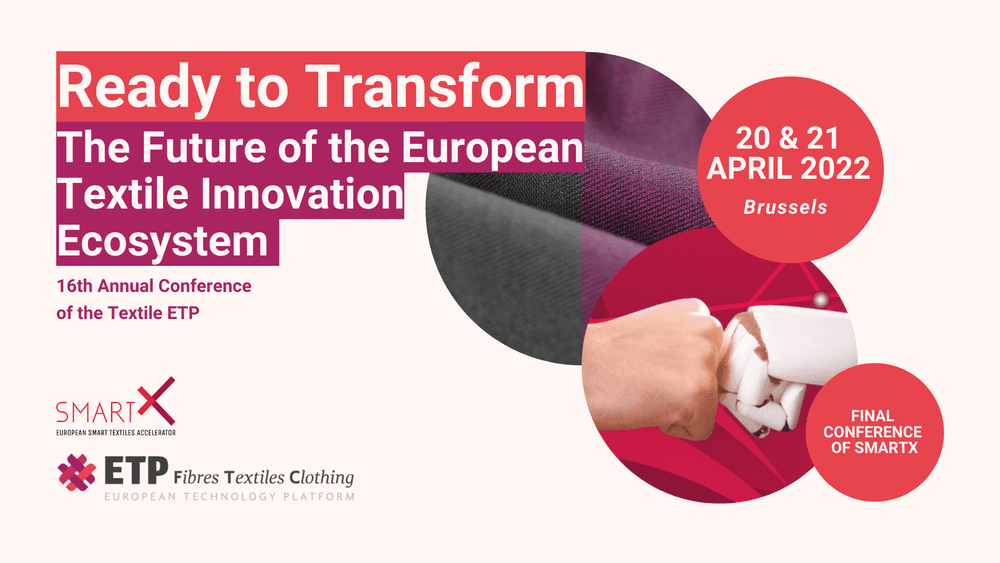 This year, the 16th Textile ETP Annual Conference took place as a physical event in Brussels on 20-21 April 2022, It was combined with the final conference of the SmartX project as well as the annual General Assembly of the Textile ETP.

Day 1 presented the final results of the SmartX - European Smart Textiles Accelerator project incl. pitches by many of the SME and start-up innovators that SmartX has supported over the last 3 years.
Lutz Walter from Textile ETP kicked off the SmartX final conference, a bittersweet moment for the consortium! But the SmartX Community is here to stay.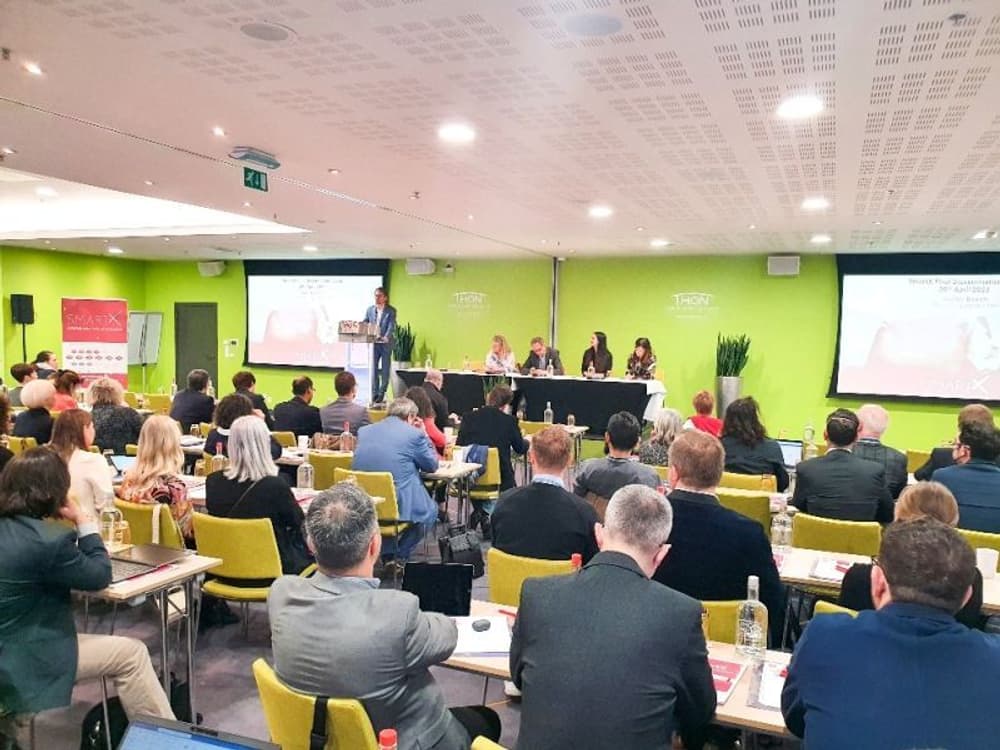 Ulla Engelmann from the European Commission talked about EU Innovation Ecosystem & Cluster Policy, including cluster work focused on helping Ukraine.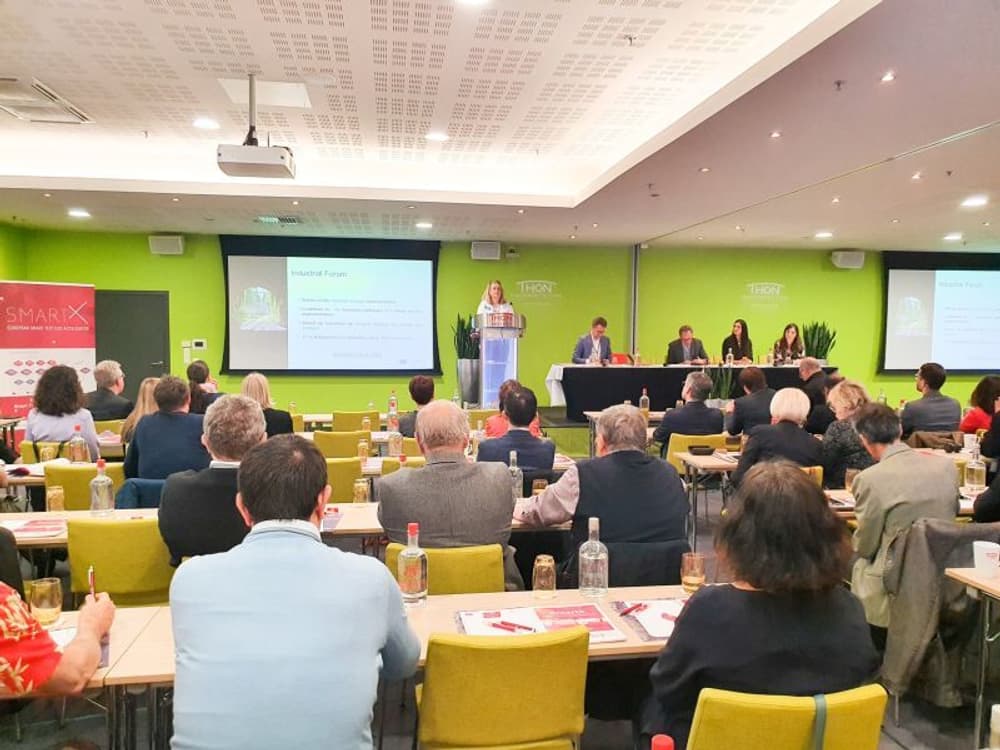 SmartX's Project Manager Judith Bosch, recounted the results of the 3-year SmartX Project.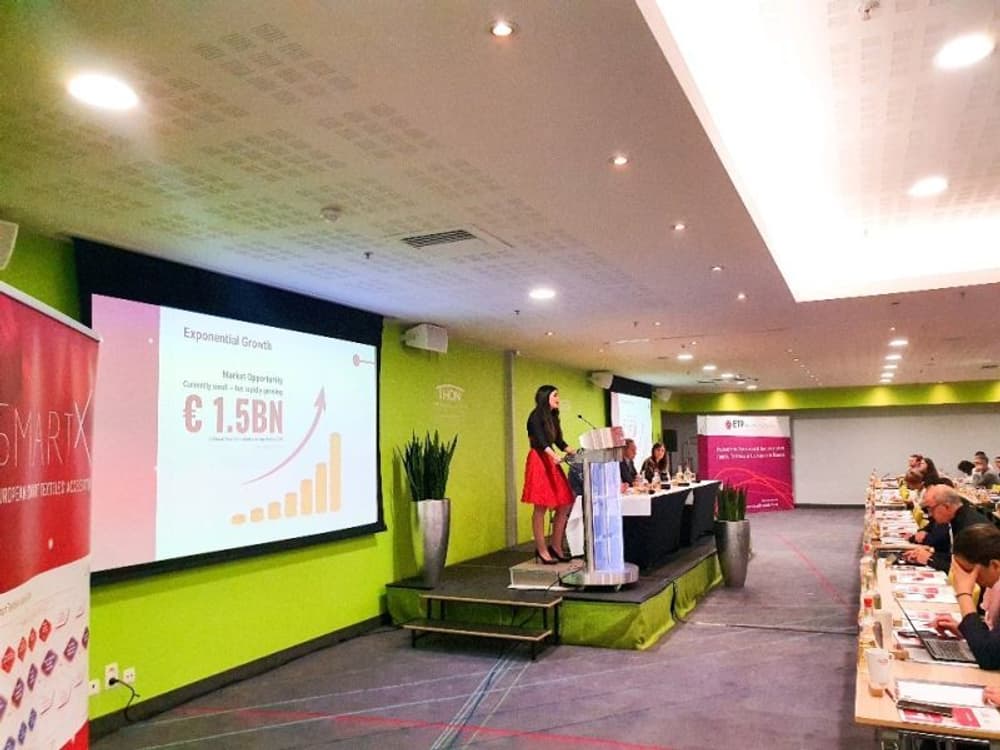 Joining us remotely is Romano Hofman from imec to talk about innovation trends in microelectronics and IoT for wearables.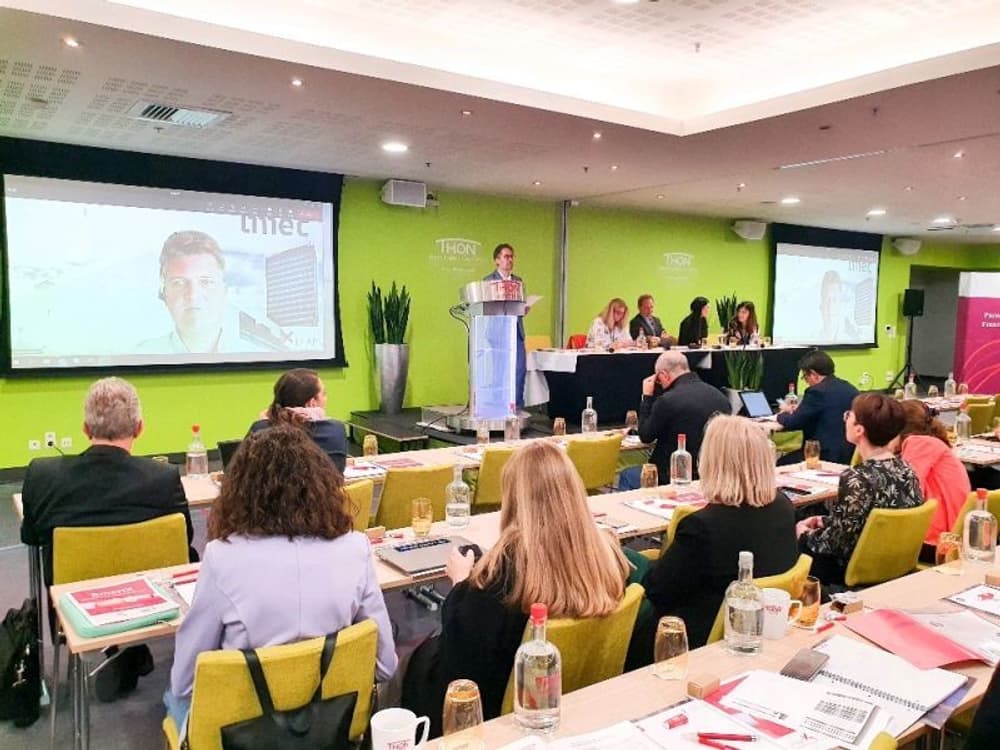 Ana Ribeiro from Cluster Têxtil / Portuguese Textile Cluster discusses the importance of cluster support for cross-sectoral SME innovation.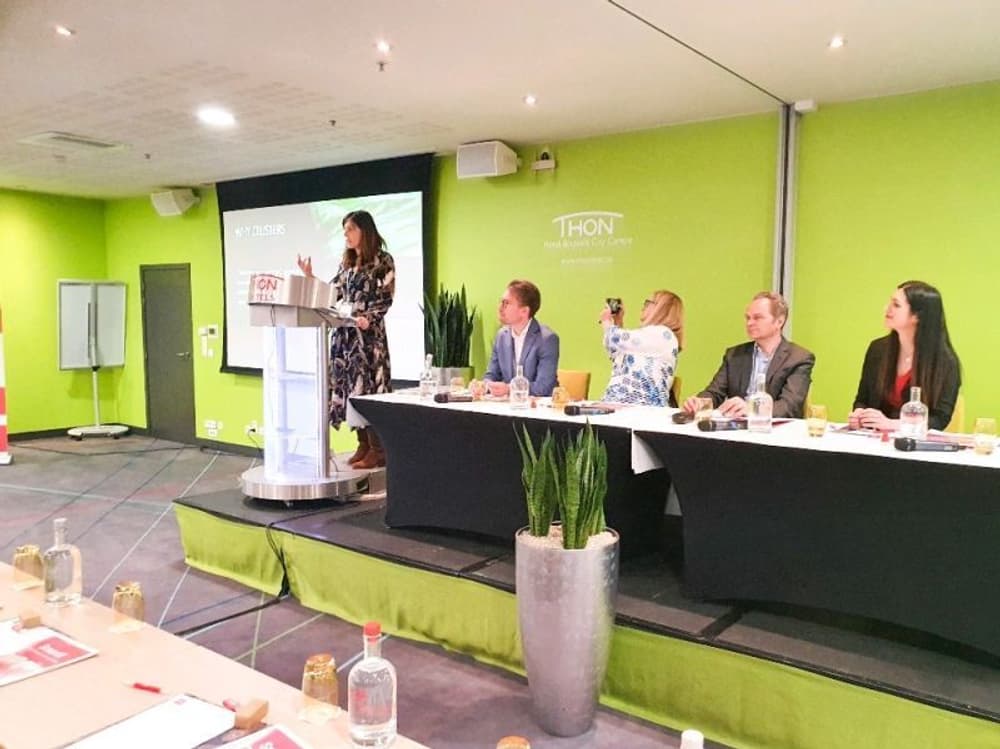 SmartX winners! These SMEs spoke about their innovative projects for medical and wellbeing applications. Learn more about the funded projects: https://lnkd.in/gJ97X4Ub.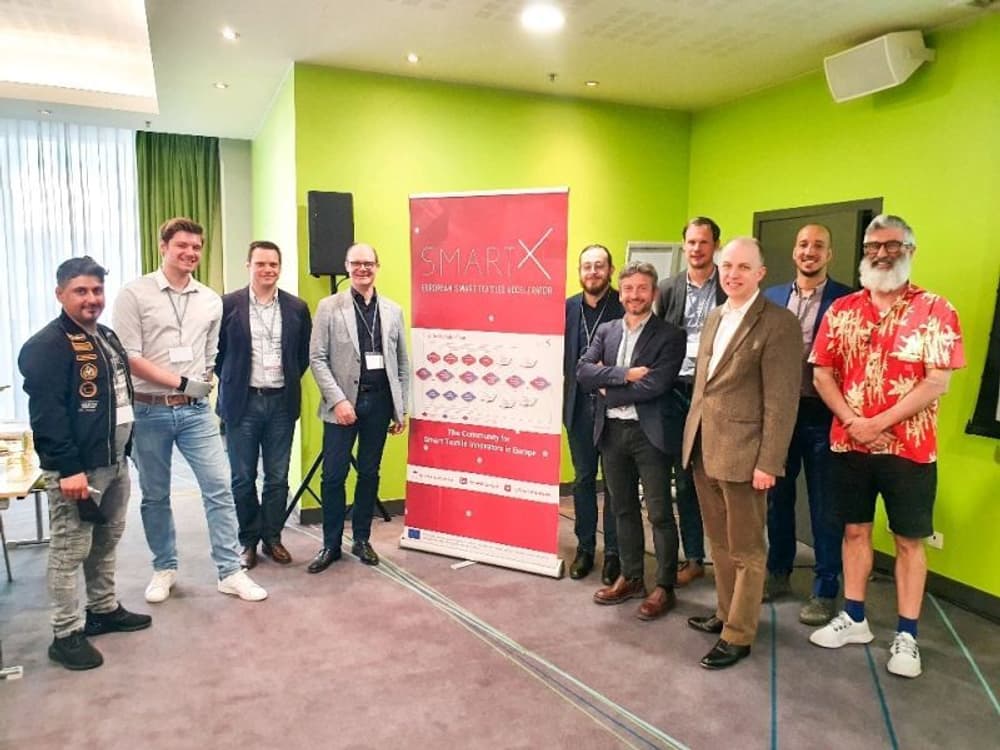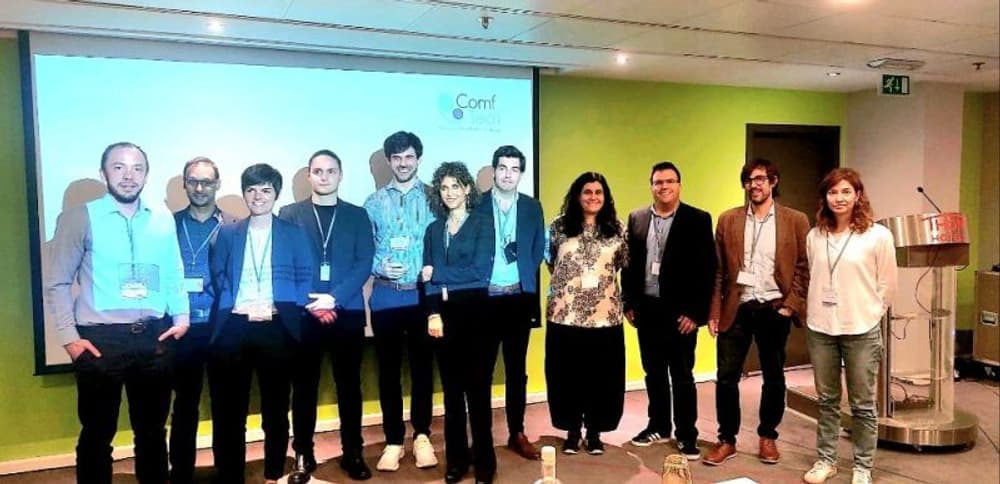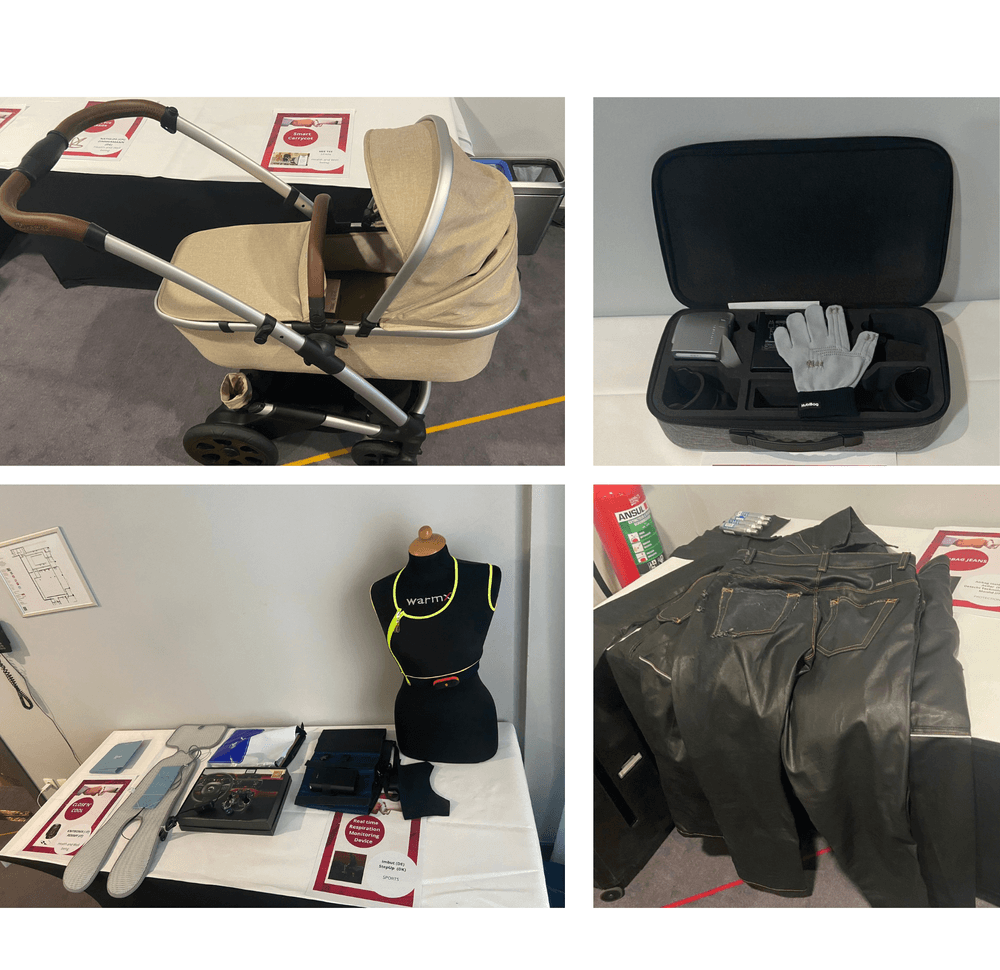 Virginie Canart from EuraMaterials talked about SmartX coaching and walked us through the self-assessment tool available on smartx-europe.eu.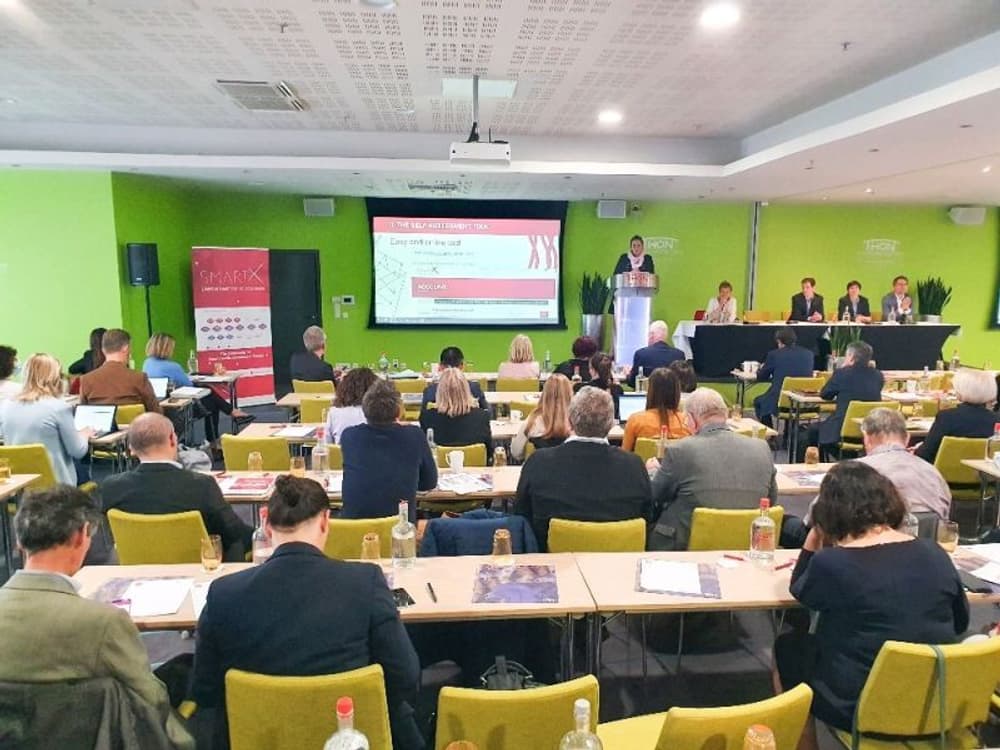 Heiko Matheis from Deutsche Institute für Textil- und Faserforschung Denkendorf (DITF), co-author of the Smart Textiles Value Chain Map, gave a detailed overview of the map. You can download it here: https://lnkd.in/eE2xpijy.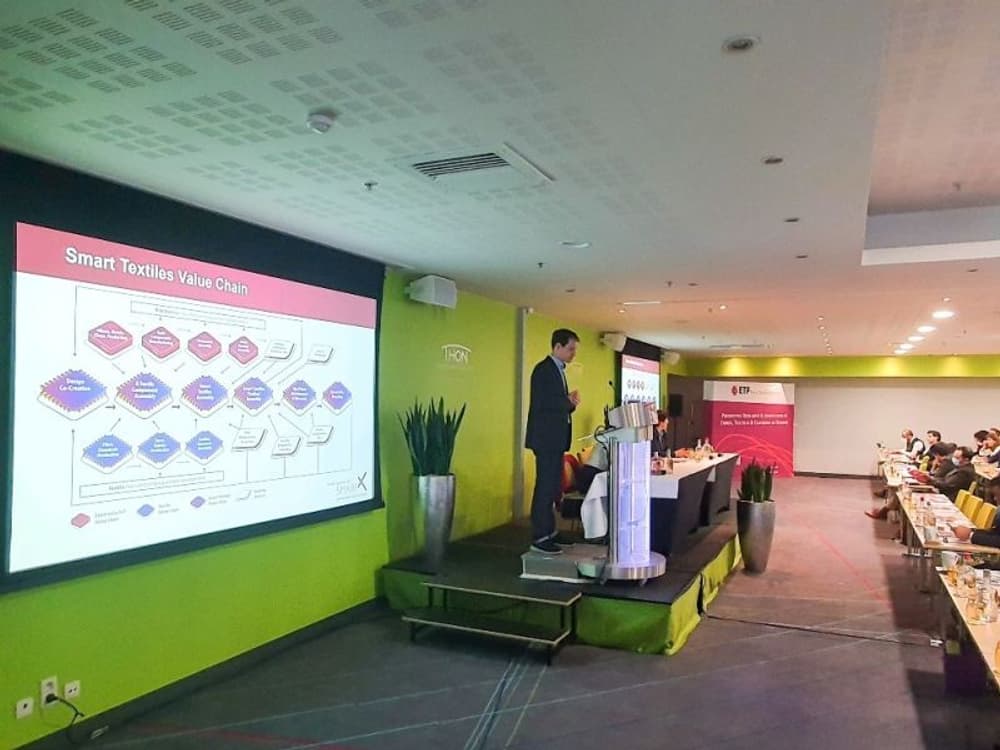 Daniel Gassman from the European Innovation Council and SMEs Executive Agency (EISMEA) 🇪🇺 discussed cascading funding of SME innovation.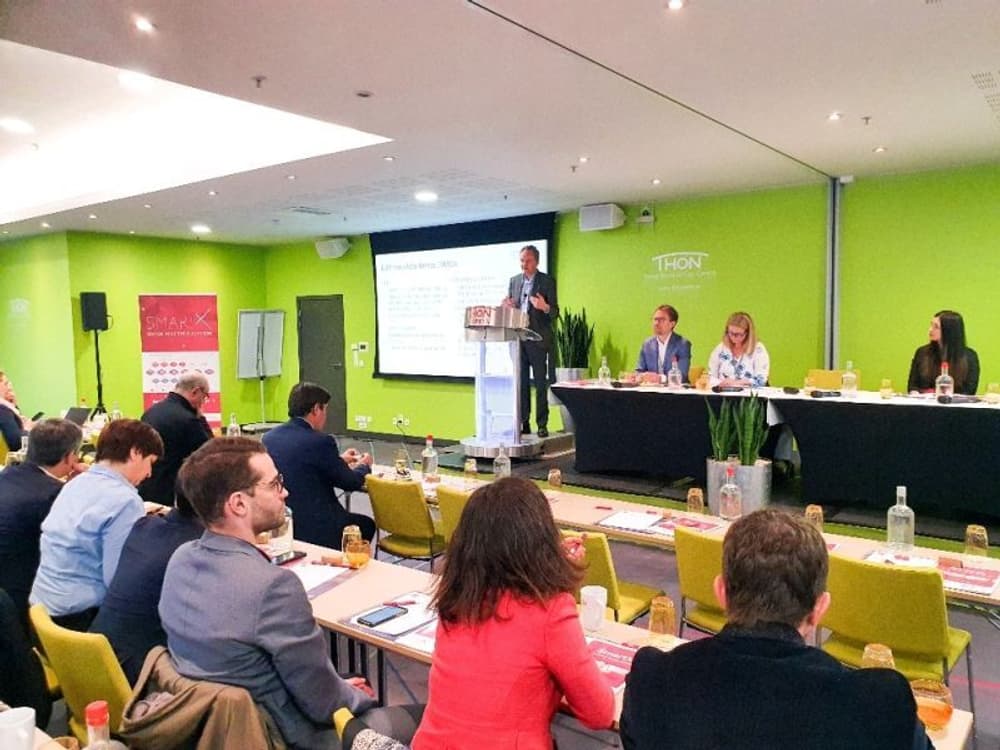 Dr. Daniela Zavec from TITERA broke down the key challenges of bringing smart textiles to market.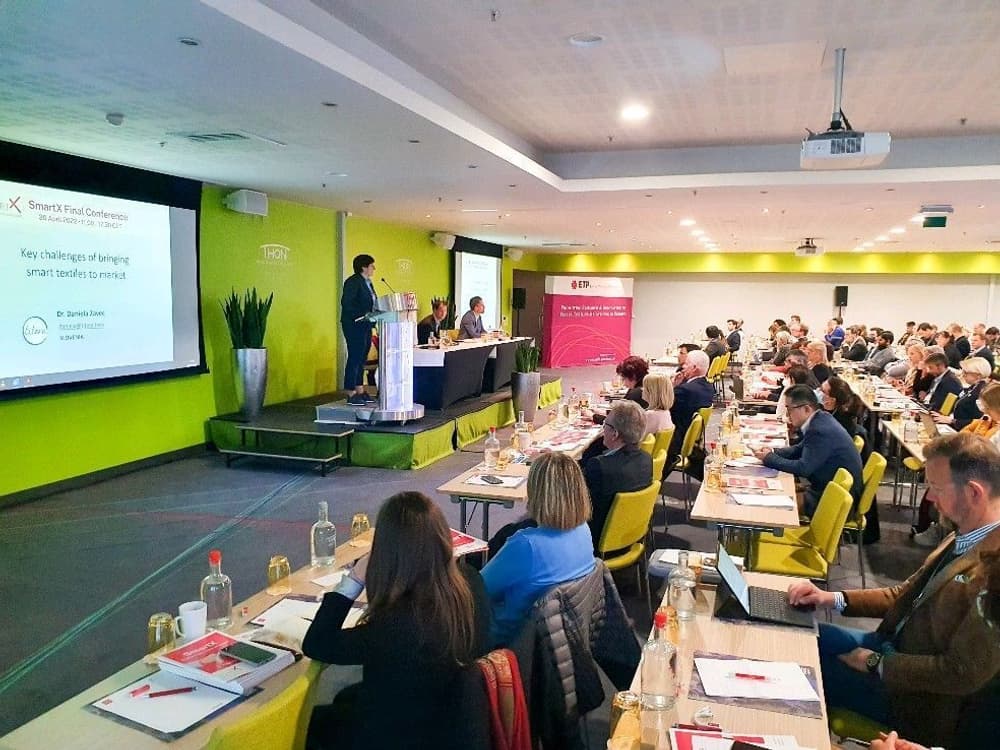 SmartX Coordinator Lutz Walter of Textile ETP provided closing words and ensured us that the SmartX Community is forever.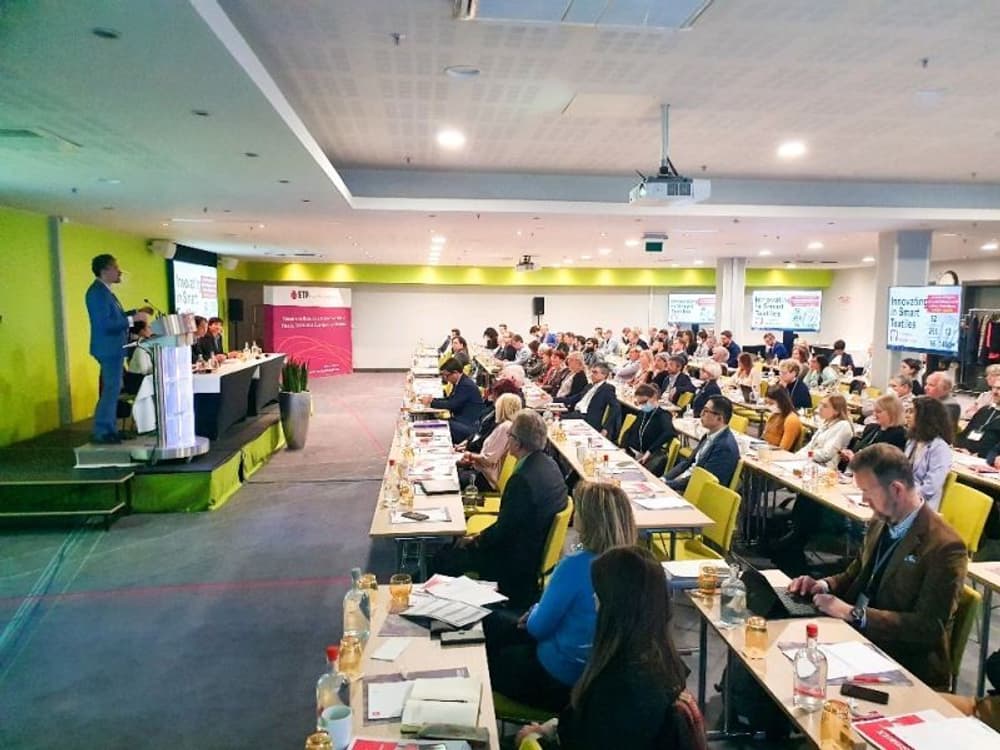 The ETP General Assembly took place on 20 April from 17.45-18.30 CET. Michael Kamm opened the session, Lutz Walter presented the admission of new associated members, the activities of the association in 2021​, presentation of the 2021 annual accounts,​ action plan, and budget for 2022, and lastly, Kamilla Drubina, in charge of the Community building presented our new Community Platform.​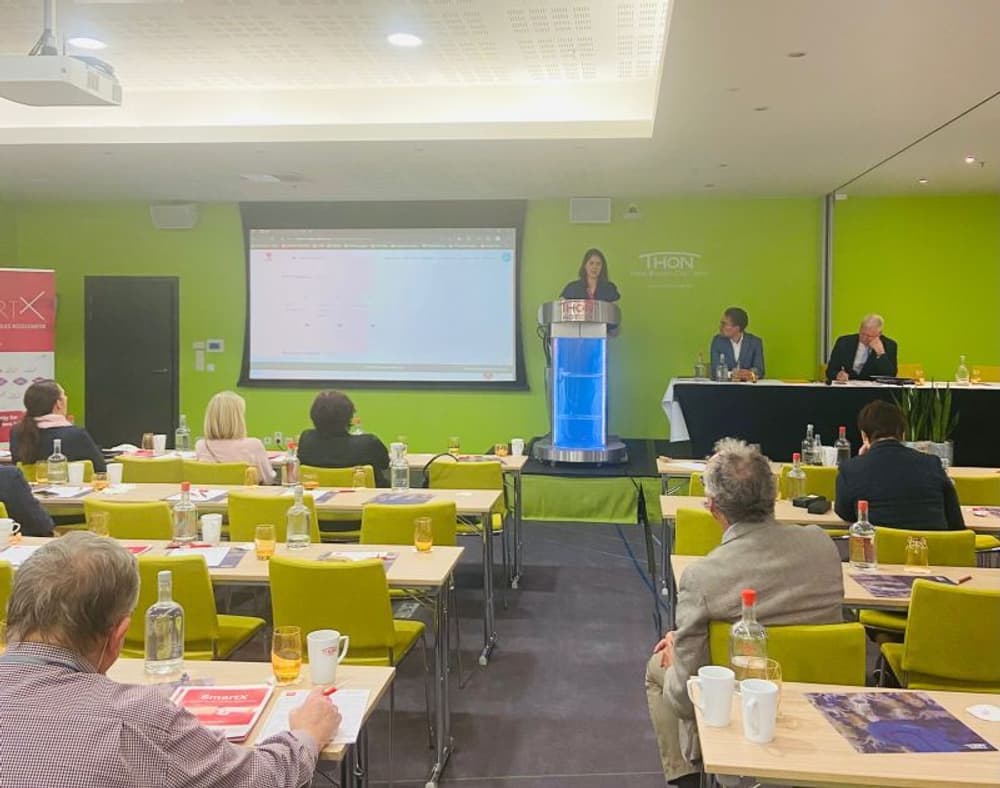 Day 2 was dedicated to the presentation of our new Strategic Research and Innovation Agenda as well as information about the EU Textile Strategy and other EU policies in the research, innovation, digitalisation, and sustainability domains that will shape the EU textile and clothing sector in the coming years.
Michael Kamm, President of The Textile ETP opened the 16th Annual Conference highlighting the global transformation the textile industry has ahead. Andrea Ceglia, European Commission (DG Research & Innovation) gave a keynote speech on Industrial technology roadmaps for the EU industrial ecosystem and the Horizon Europe Framework Programme. Sofie Nørager, DG Research & Innovation, European Commission, presented the advanced materials for the circular and digital transformation of European industry. Lutz Walter presented the new Strategic Research & Innovation Agenda for Textiles – towards 2030.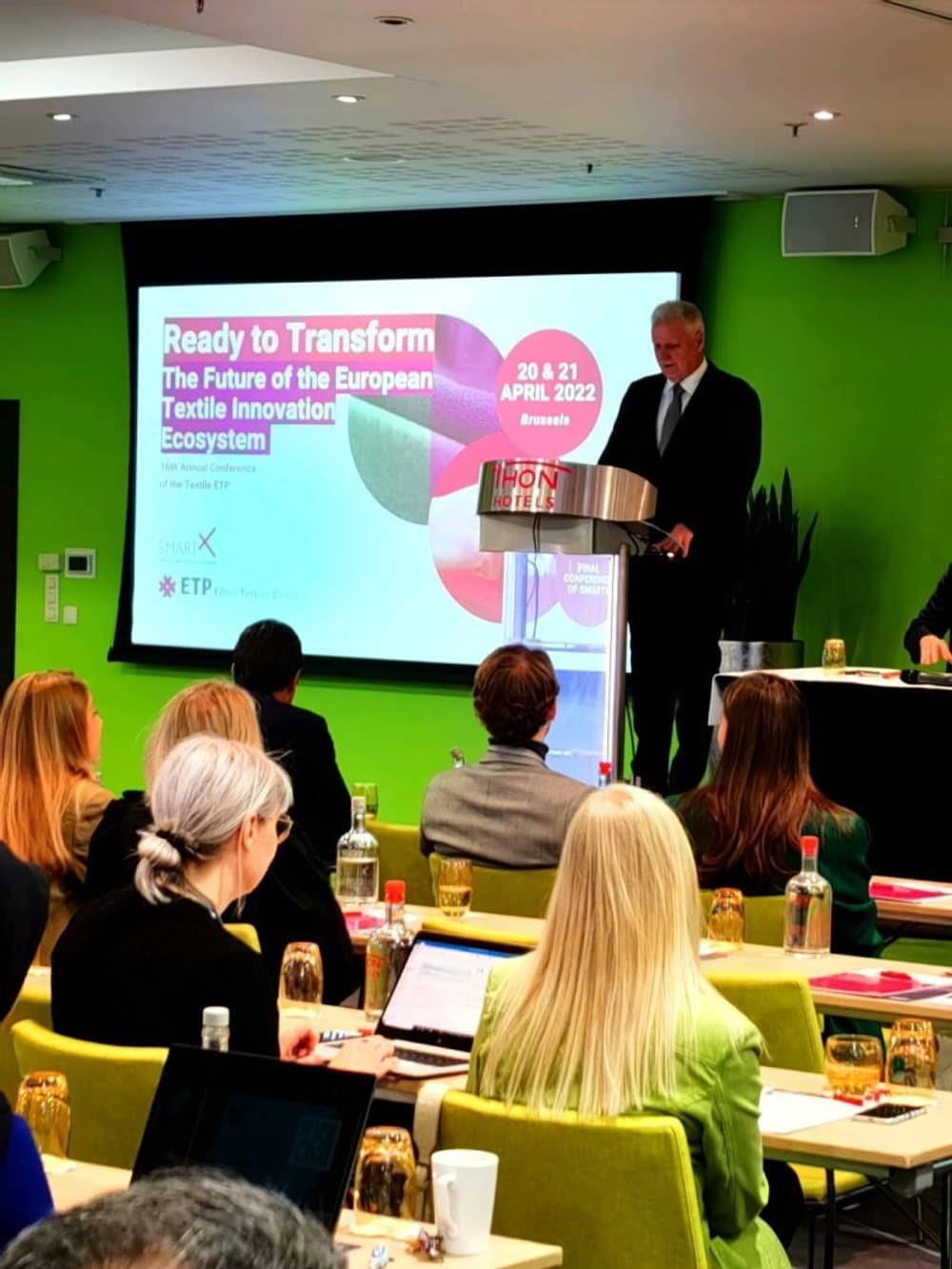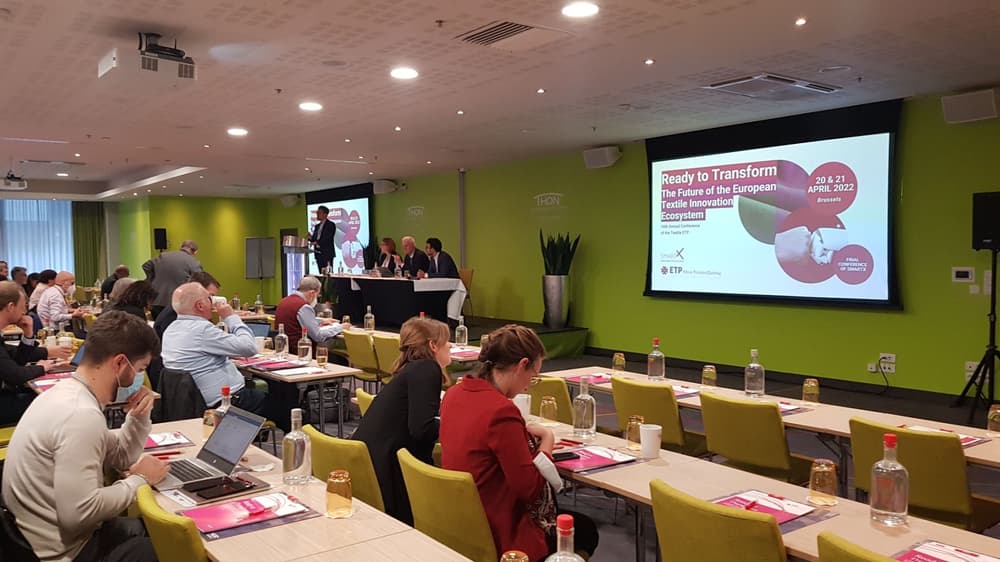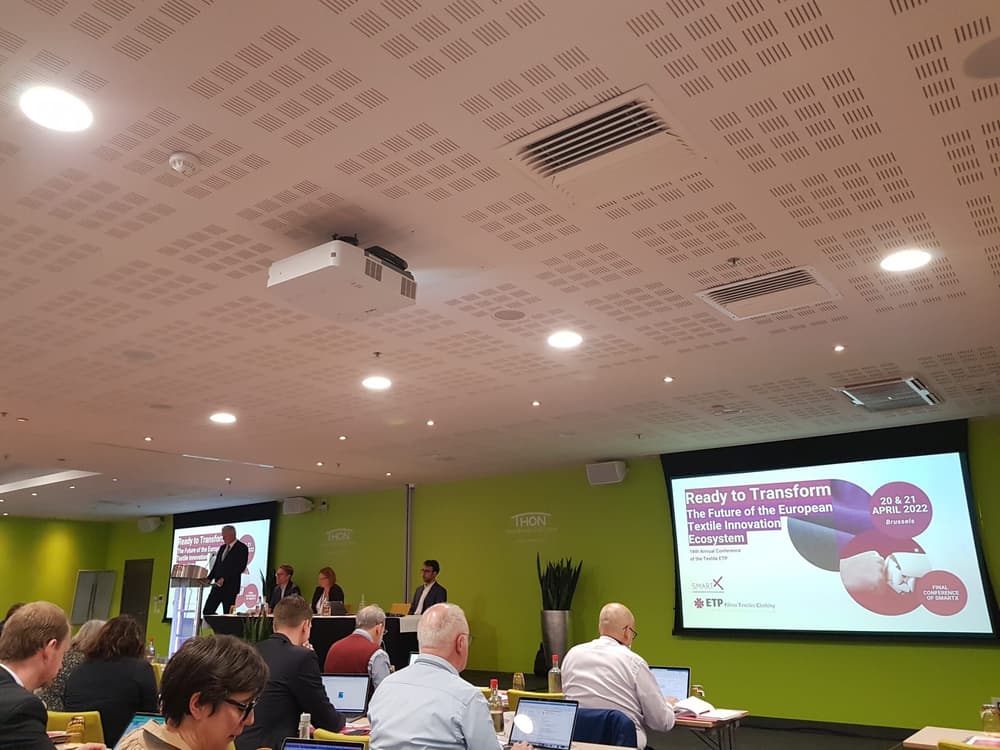 During the Session 1 Smart High-Performance Materials, the first presentation was on Sustainable coatings for functional and Smart Textiles by Erik Khranovskyy, GRAFREN AB. Graphene that works. Then, Myriam Vanneste from Centexbel presented Sustainable coatings for functional and
smart textiles. Then, Florian Miguet presented the Smart Textiles for temperature regulation, in the name of clim8 specialised in Intelligent Thermal Technologies for Wearables, how they answer the industry standards and focus on user experience.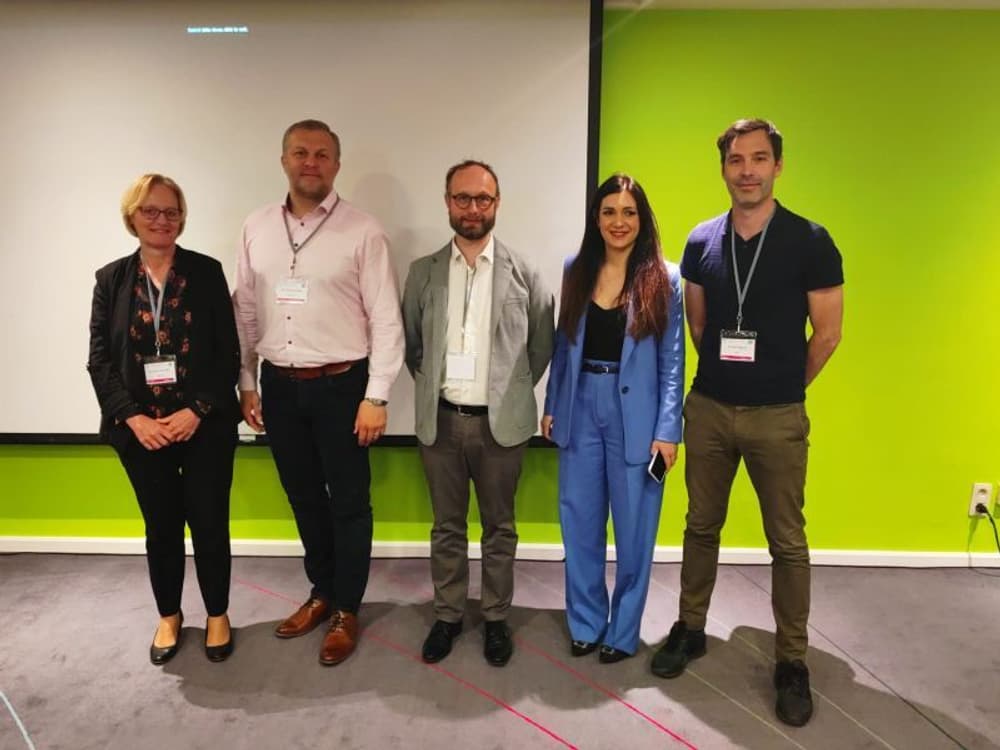 For the Second parallel session 'Circular & Biobased Textiles', Marina Crnoja-Cosic, Kelheim Fibres GmbH presented the Innovative reusable hygiene products based on specialty viscose.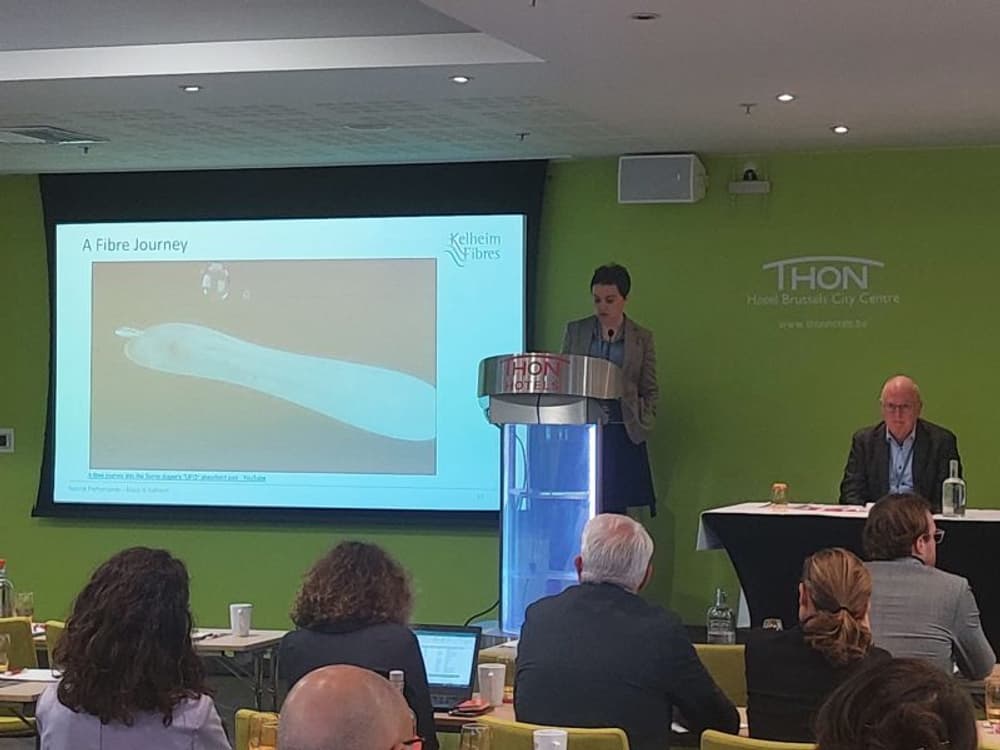 Johanna Nissén Karlsson, Vividye presented #RemovablePrints - Enabling increased reuse of textiles.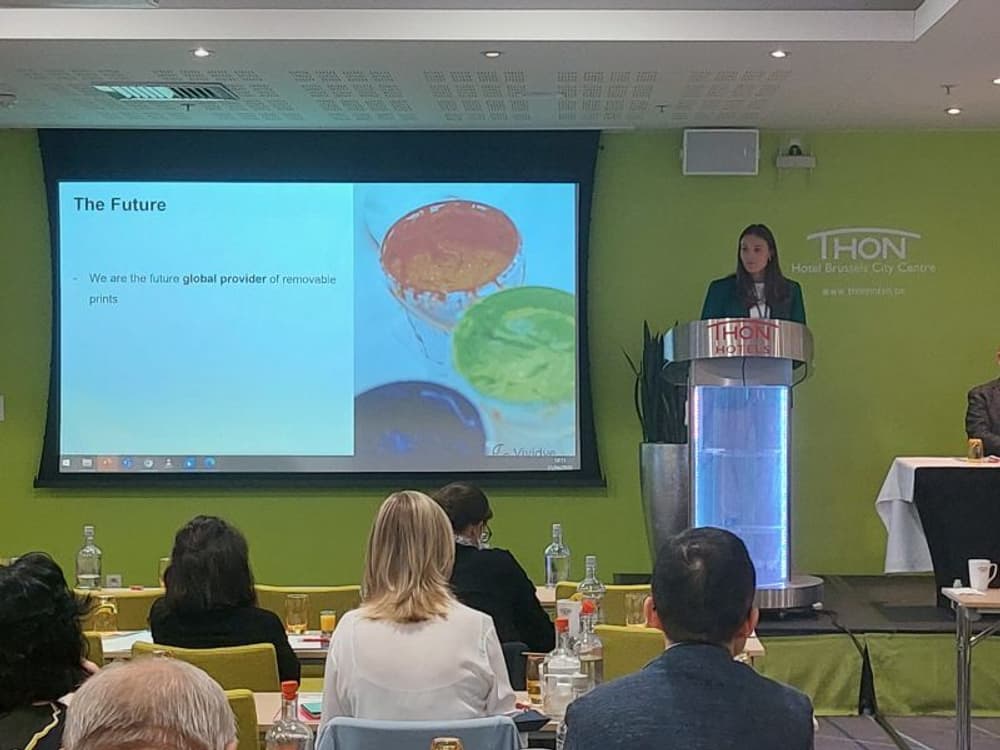 Then, Cédric Vanhoeck, Resortecs, presented Resorbable sewing threads for garment disassembly.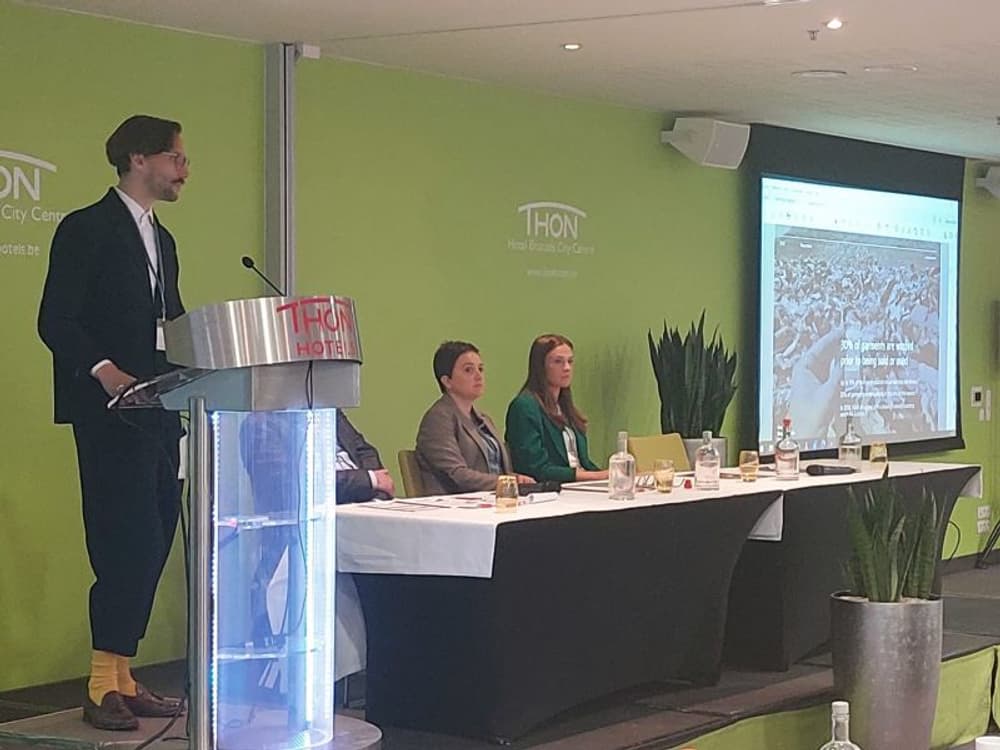 After 3 presentations by Marina Crnoja-Cosic, Johanna Nissén Karlsson, and Cédric Vanhoeck, session 2 dedicated to Circular & biobased Textiles came to an end.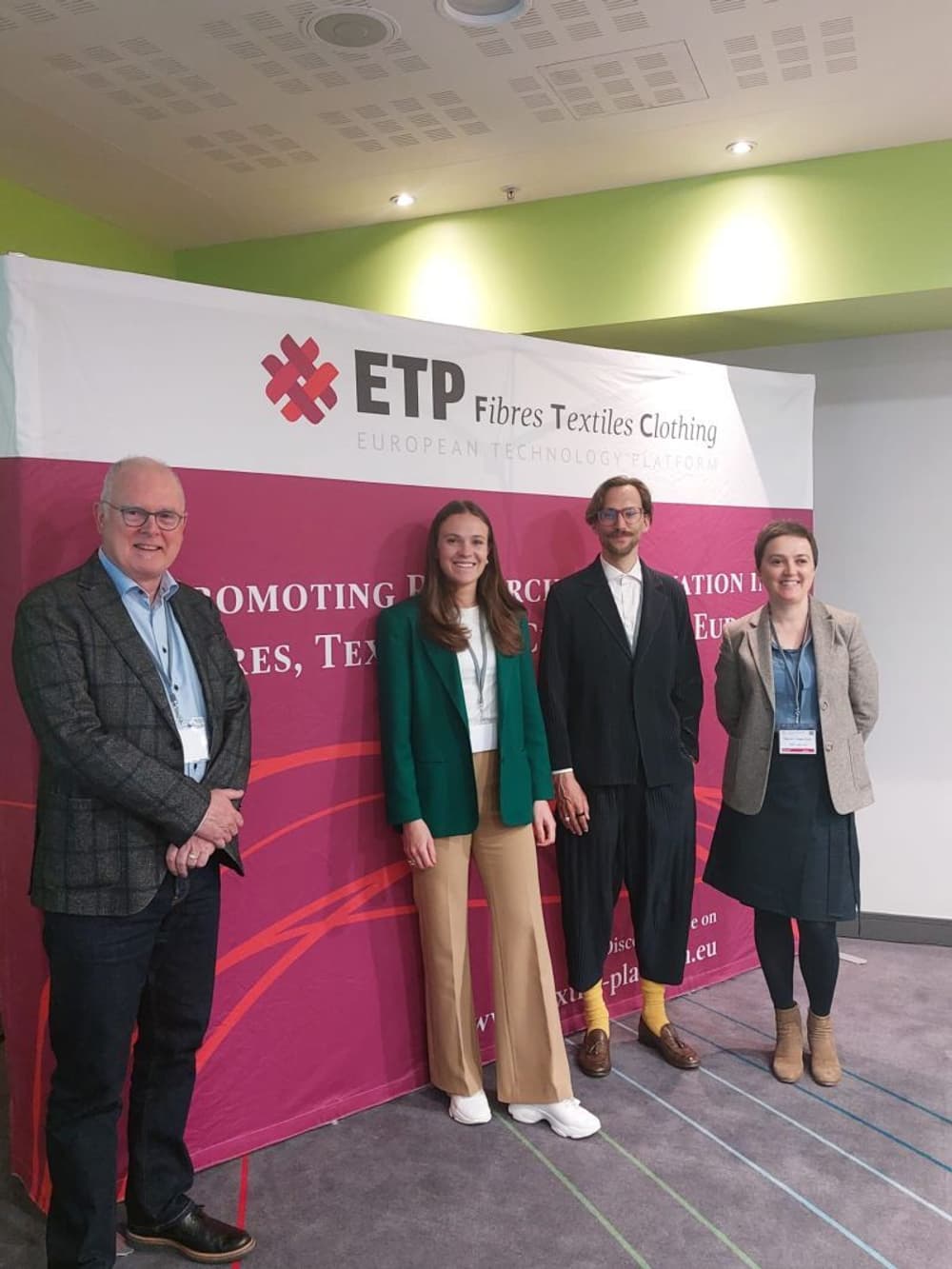 Miguel Ribeiro from Smartex.ai opened session 3 'Digitalisation' with a presentation on Machine Learning and Artificial Intelligence to solve the textile manufacturing waste.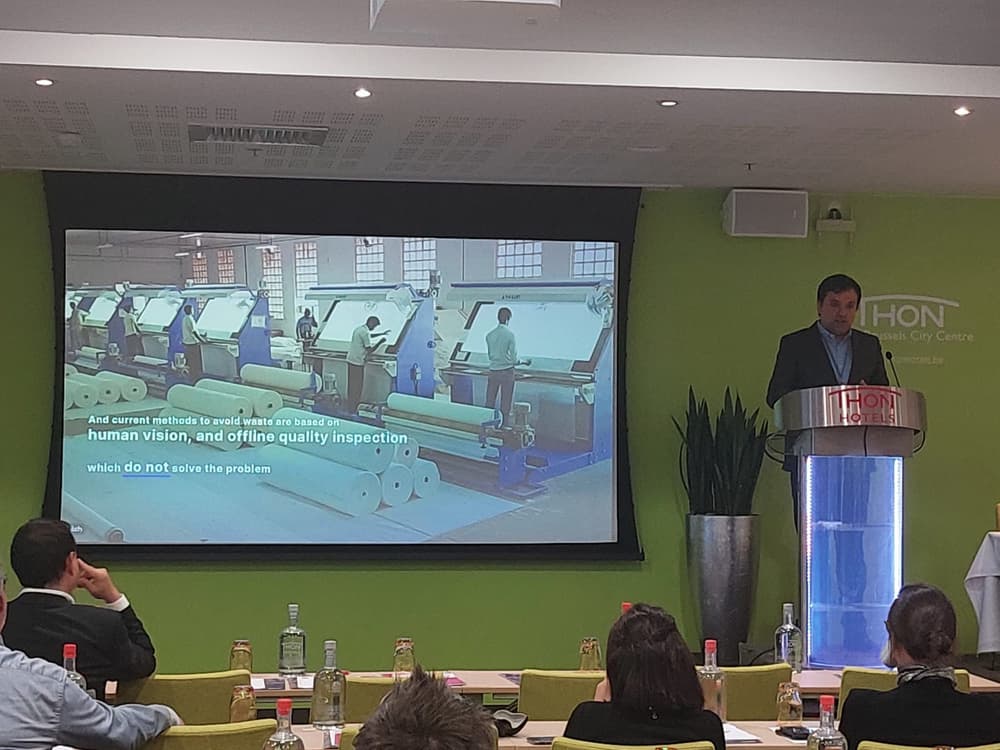 In the other conference room dedicated to Safe Products & Responsible Supply Chains, Anne Chloe DEVIC, Innovation Manager at Cefic (European Chemical Industry Council) presented the Sustainable-by-Design Materials.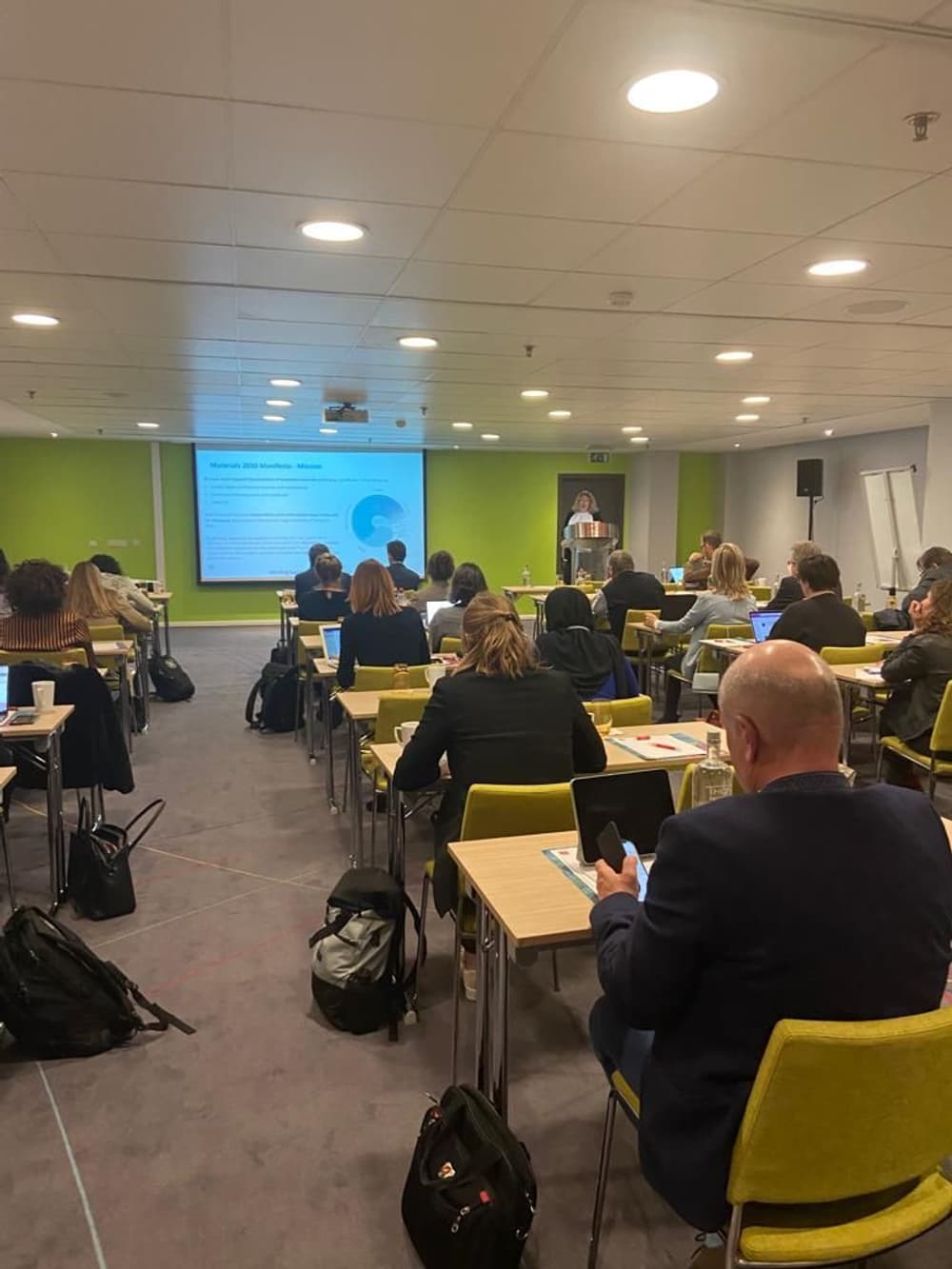 Session 3 Digitalisation: Digitalisation & robotisation of garment making & other textile assemblies: the SoftManBot approach by Alberto Landini, Project manager at STAMTECH S.R.L.

Session 4 Safe Products & Responsible Supply Chains: Alessandro Canepa, R&D Manager at Fratelli Piacenza S.p.A. (Piacenza Cashmere) presented the TRICK Project – Blockchain solutions for textile supply chain transparency and traceability. The Project supports the adoption, tracing, and demonstration of sustainable approaches by means of an innovative and circular product information management system based on Blockchain and is able to provide stakeholders of the supply chains and final consumers with all the relevant data needed to implement end of waste practices and aware purchasing choices. During this presentation, we learned what are the project's key objectives, status, and upcoming steps.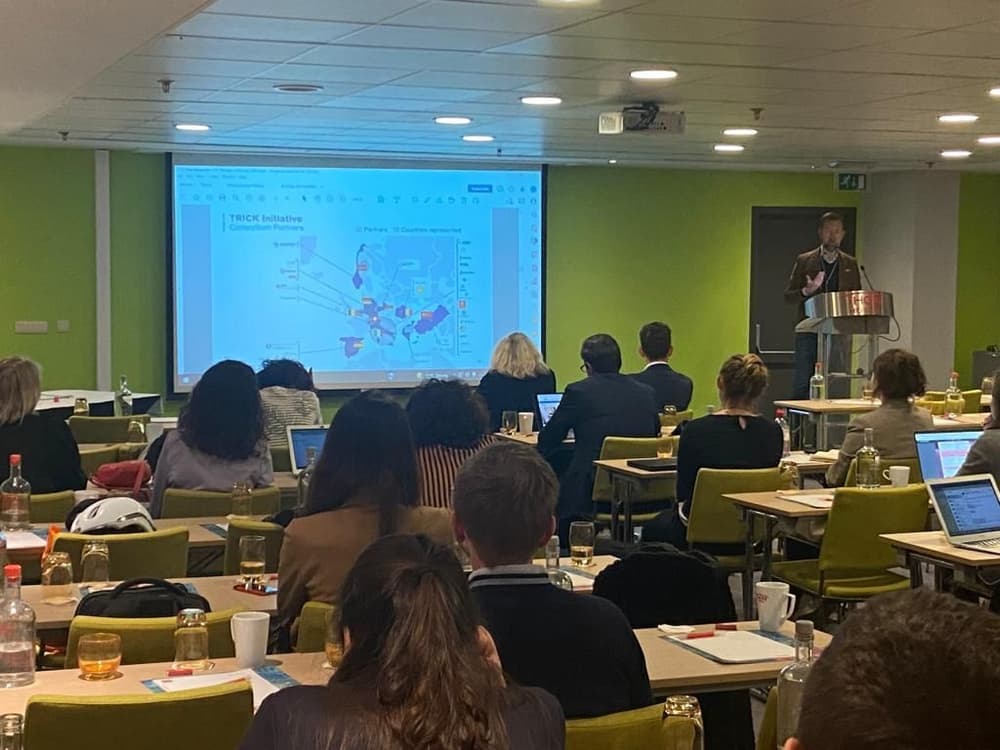 Hermann Finckh, German Institutes of Textile and Fiber Research closed the Session 3 'Digitalisation'. This presentation helped us better understand the motivation for the Virtual Development of complex #3Dfabric weaving of 3D-multilayer fabrics, its possibilities & challenges, the generation of complex realistic fabrics by geometric & analytic relations combined with FE-simulation, and the virtual dev. of #TechnicalTextiles and complex FRP​.
Gediminas Mikutis, Co-Founder & CTO at Haelixa Ltd closed the panel on Safe Products & Responsible Supply Chains with a presentation on DNA-based #fiber marking as a tool to enhance #SupplyChain #Transparency and to prove circularity claim, where we could learn more about the relevance of traceability, DNA-based markers to physically trace textiles, how the company Haelixa Ltd does the process and DNA verification, as well as the key challenges. #ETP2022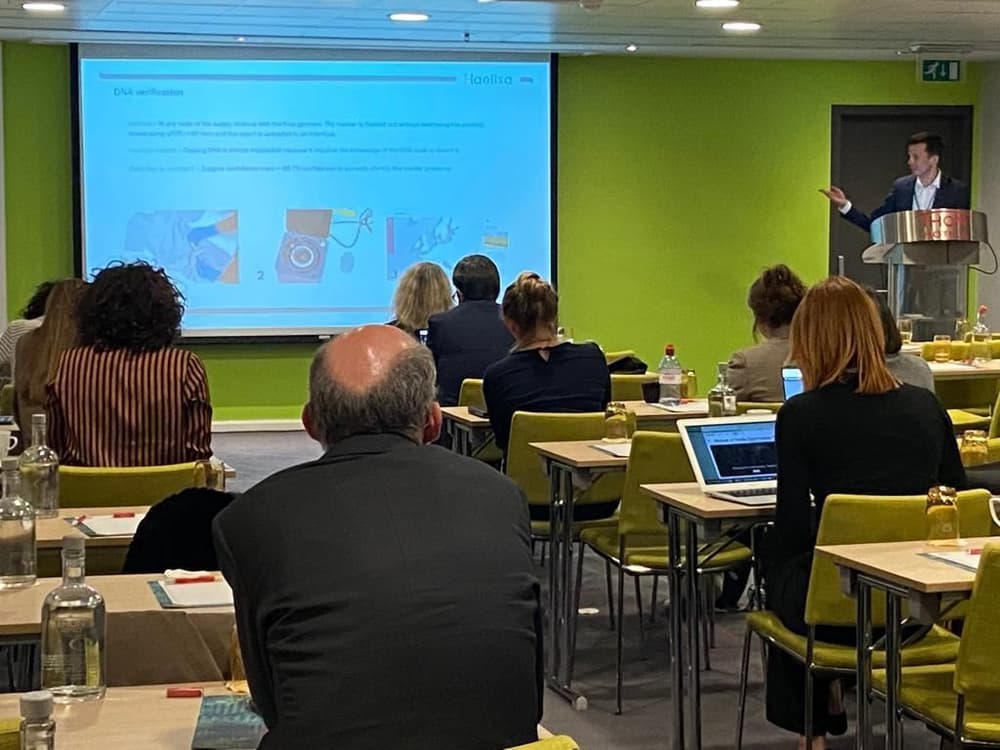 Anne Chloe DEVIC, Cefic (European Chemical Industry Council), Alessandro Canepa, Fratelli Piacenza S.p.A. (Piacenza Cashmere), and Gediminas Mikutis, Haelixa Ltd after their presentations related to Safe Products & Responsible Supply Chains.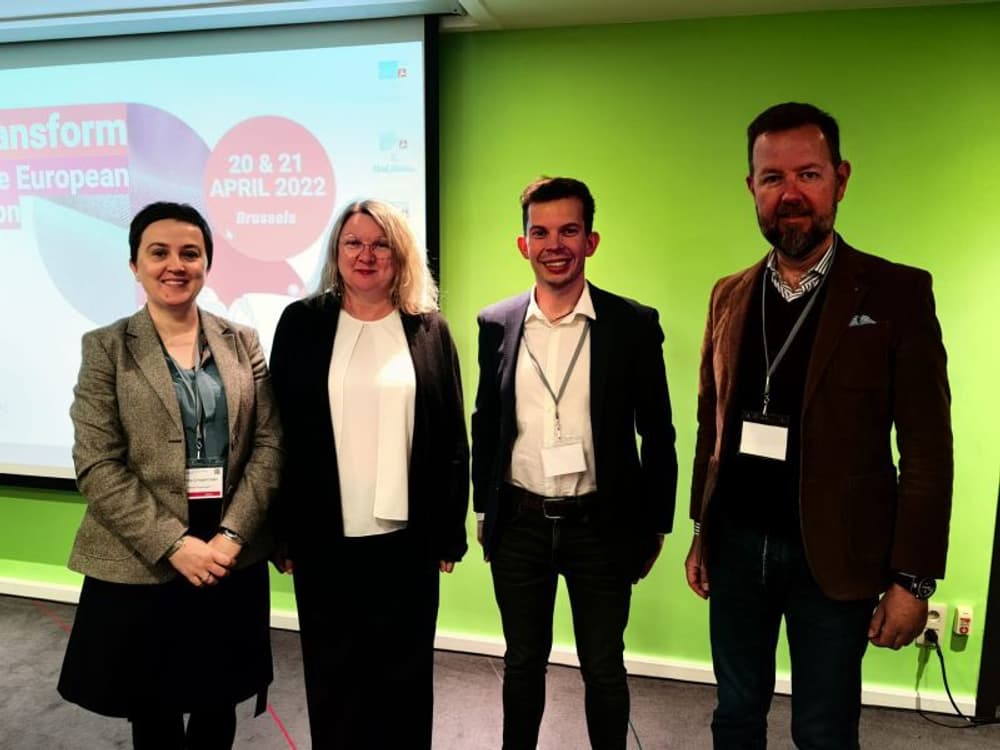 When session 3 on Digitalisation came to an end, Hermann Finckh, Alberto Landini, and Miguel Ribeiro gathered for a picture.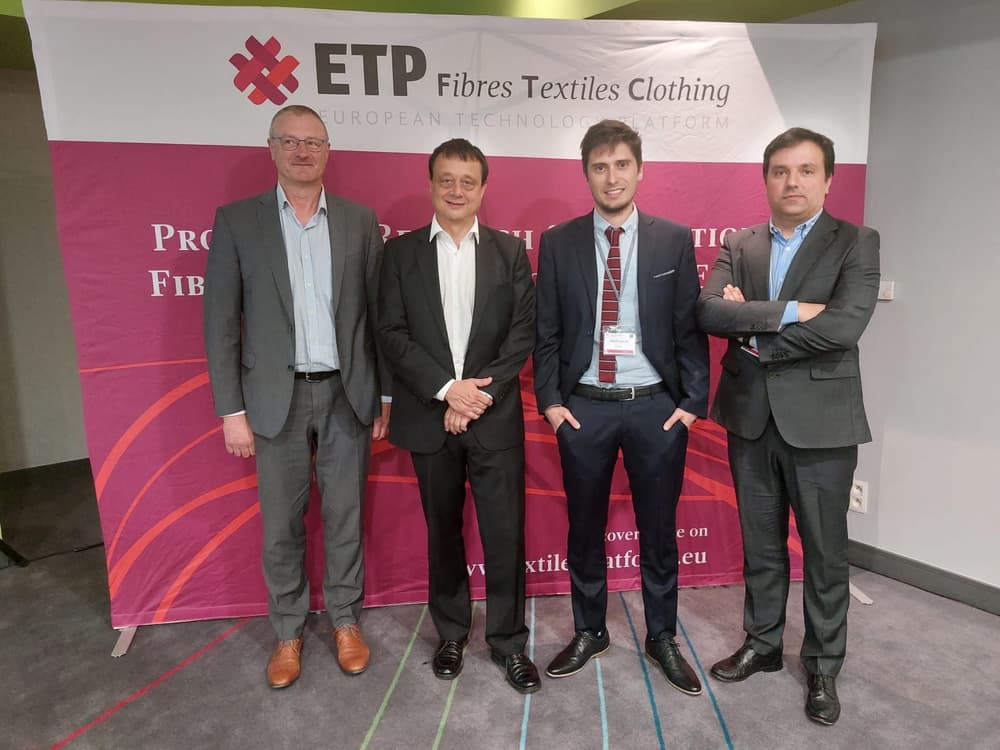 Closing Plenary Session - Transition Pathways towards a Digital, Circular & Resilient EU Textile & Clothing Industry: Marie-Helene Pradines, DG GROW, European Commission presented the EU Policy View.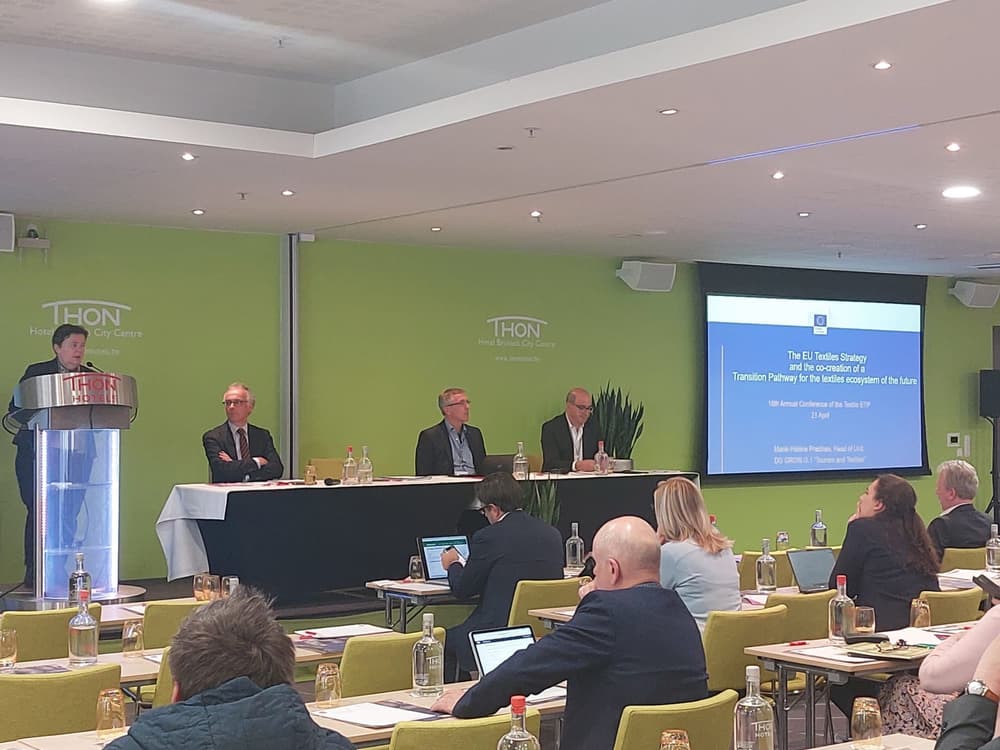 Prof. Thomas Gries, ITA Institut für Textiltechnik der RWTH Aachen University, presented the research view.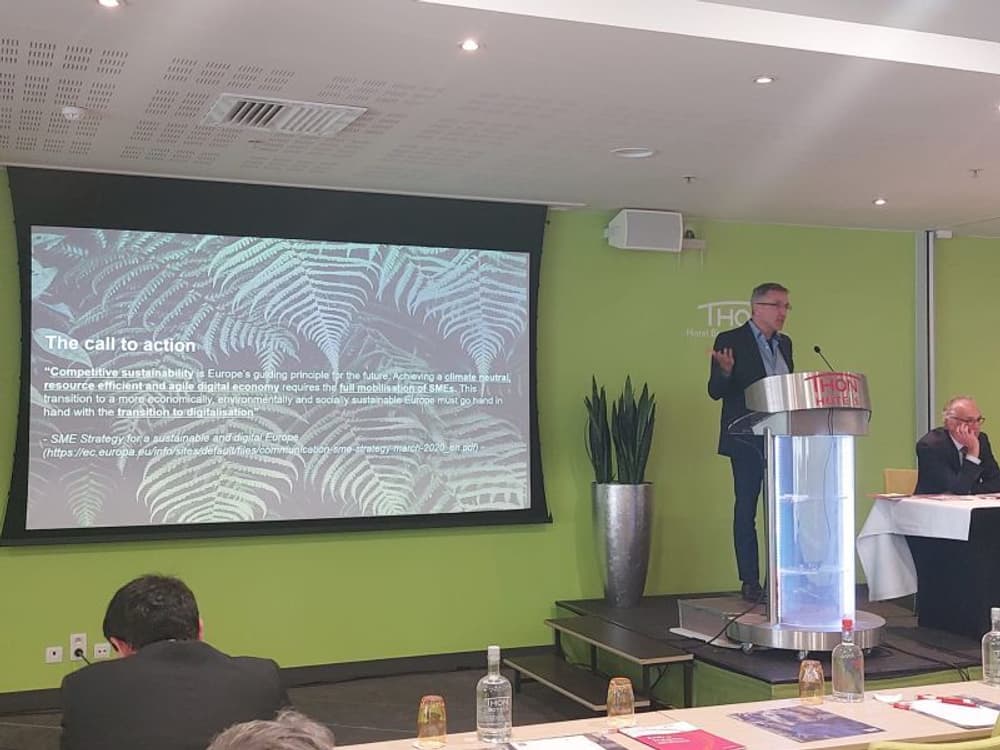 Dirk Vantyghem, EURATEX - European Apparel and Textile Confederation closed the panel on transition pathways towards a Digital, Circular & Resilient EU Textile & Clothing Industry.